Supor® grade EAV membrane filters are designed for effective bioburden and particle control of buffers and pharmaceutical or biological process fluids. A highly asymmetric single layer membrane incorporated in these filters ensures high throughputs and flow rates when utilized for the protection of downstream chromatography columns, ultrafilters or sterilizing filters.
Supor grade EAV membrane filters allow for reduced sizing of filter systems with improved process efficiencies when use of validated sterilizing grade filters is not essential, but reliable bioburden control is required. Supor grade EAV membrane filters are also effective prefilters for protection and extending the life of 0.2 µm sterilizing-grade and finer membrane filters where required.
Pall's range of Kleenpak™ Nova capsules are designed for use in medium to large scale production environments (100 L > 1000 L), often selected by the end user following scaling studies using smaller Kleenpak capsule formats. With the AB style cartridge format at its core, this capsule filter style can be supplied with the most comprehensive range of filter media.
Features and Benefits
Hydrophilic, controlled asymmetric polyethersulfone (PES) membrane ensures high microbial and particulate reduction with outstanding service life
Bacterial titer reduction in excess of 6 log for Brevundimonas diminuta ensures low bioburden levels in filtrate, regardless of bacteria or particle loading
Broad pH compatibility for processing a wide range of buffers and other fluids
High membrane area featuring Pall-patented cresent-shaped laid-over pleat construction combined with a narrow diameter core guarantees high flow rates, robustness and smaller multi-cartridge assemblies
Kleenpak™ capsule formats eliminate housing cleaning and associated validation, for ease of use and integration into Allegro single-use disposable systems
Low-binding polyethersulfone membrane for maximum transmission of proteins

Quality Standards
100% integrity tested
Manufactured for use in conformance with cGMP
Each filter is fully traceable by individual marked lot and serial number
Manufactured under an ISO 9001 Certified Quality System
Meets USP Biological Reactivity Test, in vivo, for Class VI-121 °C Plastics
Certificate of Test provided confirms:


Fabrication Integrity 
Bacterial Retention 
Materials of construction
Effluent quality for cleanliness, TOC, water conductivity, pH and pyrogens


Materials of Construction
Filter Membrane 
Hydrophilic asymmetric PES 
Support/Drainage
Polypropylene
Core/End Caps
Polypropylene
Cage
Polypropylene with TiO2 whitener¹
O-rings
Silicone elastomer
Sealing Technology
Thermal bonding without adhesives
Housing Bowl
Polypropylene
Housing Head
Polyetherimide with TiO2 whitener
¹ TiO2 is an insoluble inorganic mineral filler that does not contribute to organic extractables
Operating Parameters²
Maximum Operating Temperature 
40 °C
Maximum Operating Pressure
3 bar (44 psi) at 40 °C
Maximum Differential Pressure
3 bar (44 psi) at 40 °C
² In compatible fluids which do not soften, swell or adversely affect the filter or its materials of construction
Sterilization³
Autoclave (G option only) 
1 x 60 minutes at 135 °C
Gamma irradiation (G option only)
Maximum of 50 kGy
³ Pre-sterilized Kleenpak Nova capsules must not be re-sterilized. Kleenpak Nova capsules must not be sterilized in-situ by passing steam under pressure
Typical Extractables in Water at 20 °C

4
< 50 mg per 254 mm (10 in.) module 
4 Tested on elements without pre-flushing
Nominal Effective Filter Area (EFA)
1.06 m2 per 254 mm module (11.4 ft2 per 10 in. module) 
Integrity Test Values (air test gas, water wet)

5
Max. allowable Forward Flow
Water wet 50 mL/min at 2060 mbar (30 psi)
5 Values for 254 mm (10 in.) filter at 20°C. Contact Pall for multi-element integrity test values and recommended test procedures
Nominal Dimensions
In-line
NP6
NP7
NP8 
Maximum Diameter including valves
154 mm (6.1 in.)
154 mm (6.1 in.)
154 mm (6.1 in.)
Length with hose barb inlet/outlet
397 mm (15.6 in.)
644 mm (25.4 in.)
895 mm (35.2 in.)
Length with sanitary inlet/outlet
335 mm (13.2 in.)
584 mm (23.0 in.)
834 mm (32.8 in.)
T-style
NT6
NT7
NT8
Maximum Diameter including valves
240 mm (9.5 in.)
240 mm (9.5 in.)
240 mm (9.5 in.)
Length
349 mm (13.7 in.)
598 mm (23.5 in.)
848 mm (33.4 in.)
Kleenpak Nova In-line Capsules (NP) Typical Liquid Flow vs. Differential Pressure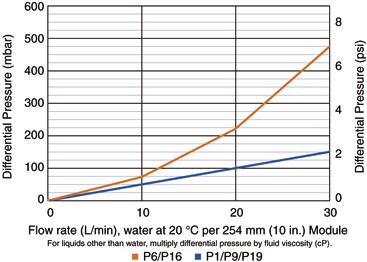 Kleenpak Nova T-Style Capsules (NT) Typical Liquid Flow vs. Differential Pressure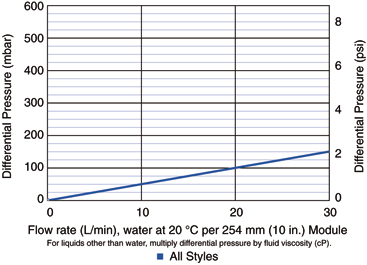 Regulatory/Quality Documentation
Filters - Liquid - Bioburden Reduction (≤ 0.45 micron)